File Transfer
In addition to general iTunes based file transfer (check "http://support.apple.com/kb/PH12318" for more information), the App supports HTTP/FTP file transfer (through WiFi) and AirDrop file transfer (through WiFi and bluetooth).
- HTTP file transfer. It calls for no extra software but only Web Browser (like Chrome, Safari, IE) is needed at the peer side (PC or Phone). First, you switch on the HTTP server in Crypto Disks App. Then, you open web browser at another side and type in the HTTP server address. Finally, in the landing web page, you could start to download or upload the files.


- FTP file transfer. It could be used to transfer multiple (big) files at a time. It can be used in two different ways in the App:
a. To make the device as an FTP server, and other devices like PCs could connect to the FTP server using FTP clients (like FileZilla, which could be download from https://filezilla-project.org. Windows Explorer on Windows may work but may not be so powerful like supporting to resume interrupted downloading).



b. To make the device as the FTP client, and connect to other devices' FTP servers. If you follow the first way, please switch on the FTP server switcher at the side panel, and connect to the FTP address shown below the switcher from other devices' FTP clients. If you follow the second way, please tap on "Connect to a FTP Server" button at the side panel and input the FTP info in the pop-up dialog and connect. After connecting successfully, you can enter selection mode to select multiple files and tap "Download" to download files to current browsing directory in the main screen.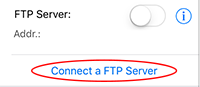 - AirDrop transfer is only available on relatively new Apple devices (iPhone/iPod 5 and above, iPad 4 and above, iPad mini and above), and transfers one file at a time. Please bring out the AirDrop menu by either long-pressing on the file to transfer and tapping "Open in Other Apps", or opening the file and tap the action button at the top-right corner.